Not Ferrari, Red Bull or Mercedes: Conor McGregor names the surprising F1 team he supports in Monaco
Conor 'The Notorious' McGregor is arguably one of the most recognizable names in combat sports. The Irishman has grown his business and is on his way to becoming a billionaire in his thirties. As the Monaco Grand Prix approaches, McGregor has revealed which team has his backing.
ADVERTISING
The article continues below this ad
Following Saturday's qualifying, Sky Sports interviewed McGregor, who was present at the venue. In the interview, McGregor revealed which team he was supporting for and it was unexpected to say the least.
ADVERTISING
The article continues below this ad
McGregor said, "It's great to be here. I enjoyed this qualifying round a lot. Great to be here. My first Grand Prix here in Monaco. I'm honoured. I'm here to support the Haas team. Everything is to play. You know, there was a crash between the first two. Our car, I believe, is the freshest leaving that. You know, there's a storm brewing, and we can't wait to see tomorrow Let's go, Team Haas!
DIVE DEEPER
Here, McGregor is referring to the crash between Ferrari's Carlos Sainz and Red Bull's Sergio Perez. Although this accident increased the other teams' chances of success, the Haas team struggled to qualify. Their two drivers, Kevin Magnussen and Mick Schumacher, did not reach Q3 and will start in 13th and 15th place respectively.
The arrival of Conor McGregor in Monaco
Conor McGregor arrived in style in Monaco. The Irishman spent the last week in Cannes and arrived on his $3 million Lamborghini yacht on Thursday.
ADVERTISING
The article continues below this ad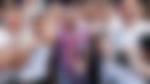 He was joined by his partner, Dee Delvin, and two of their three children. McGregor showed up to qualifying wearing a beautifully designed blue, pink and purple satin shirt. The shirt was filled with floral patterns and matched his shorts. McGregor also wore a gold chain around his neck and wore white sneakers for the event.
WATCH THIS STORY – Tyson Fury, Kamaru Usman, Dana White and More React to Mike Tyson Beating Drunk Fan on Flight
ADVERTISING
The article continues below this ad
As he descended the track, the Irishman was in good spirits, smiling at the cameras. McGregor then met the Haas team riders and took pictures with the two individually. These images sent fans into a frenzy, with none of them expecting this collaboration between two sports.
What did you think of McGregor's statements? Who do you support for the Monaco Grand Prix? Let us know by dropping your opinions in the comments below.