'You're just trying to fight Kareem Abdul-Jabbar': Multi-time boxing world champion Roy Jones Jr. reveals the problem of fighting Tyson Fury with NBA legends comparison
Roy Jones Jr. was a force to be reckoned with during his boxing days. He is a former middleweight champion and heavyweight champion, becoming the first boxer in over 100 years to accomplish this feat. Remarkably, he also became the undisputed light heavyweight champion in 1999, holding belts in three divisions.
Even today, Captain Hook is considered by many to be one of the greatest pound for pound and is ranked in many pound for pound lists of all time. Jones may have been one of the best; however, even he senses that there are certain fighters who could give him trouble.
ADVERTISING
The article continues below this ad
Roy Jones Jr. explains the problem of facing Tyson Fury
In an interview with Breakbeat Media, the former champ was asked to pick two fighters he'd like to hand him in a hypothetical fight. Jones Jr. chose the best pound-for-pound boxer of all time, Sugar Ray Robinson. However, his third choice came as a surprise as he chose current WBC champion, Tyson Fury.
Captain Hook explained his reason behind this and said that Fury was just too big for anyone to threaten him. He explained that was the reason why Wladimir Klitschko and Deontay Wilder couldn't beat him.
"He doesn't have the best chin but he's six-nine. They must reach it. That's what got Klitschko in trouble, that's what got Wilder in trouble, that's what everybody got in trouble," he said.
He even compared the Gypsy King to NBA legend Kareem Abdul-Jabbar due to his massive height advantage. "So you're just trying to fight Kareem Abdul-Jabbar. They're used to fighting someone their size, he's almost out of reach now…he's smart as well as being out of reach. he added.
DIVE DEEPER
There is a lot of truth in the Jones Jr comparison, as Fury is one of boxing's greatest heavyweights. His height advantage in addition to his shrewd head movement makes him one of the best in the eyes of the former champion.
Will Fury return from retirement?
ADVERTISING
The article continues below this ad
As of now, Fury is retired from the sport of boxing. However, he could potentially return to face Oleksandr Usyk for the undisputed heavyweight championship.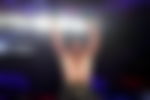 Although Fury may have originally wanted to face Joshua in a super fight, he is ready to face Usyk. Without a doubt, this could be Fury's chance to cement his legacy as the greatest heavyweight boxer in history.
ADVERTISING
The article continues below this ad
Do you agree with Jones Jr's statements? Let us know in the comments.
WATCH THIS STORY: These 5 boxers lost more than 4 million fines